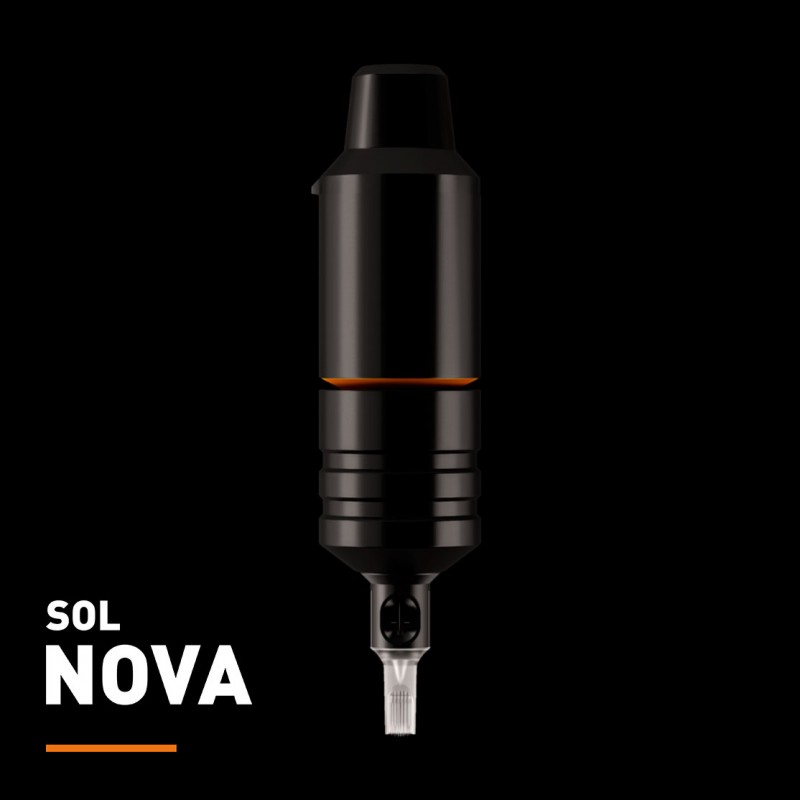  
Cheyenne Sol Nova Tattoo Penni
The optimized design of the SOL Nova combines the advantages of our angled tattoo machines with the convenience of a tattoo pen. The result is probably the quietest and most low-vibrating tattoo pen in the world, with incomparably powerful operation.
Pantanir verða póstlagðar innan 48 tíma frá því að þær berast, yfirleitt næsta virka dag.

Hægt er að skila vörum sem eru ónotaðar og í upprunalegu ástandi og fá inneign eða skipta, allt að 14 dögum eftir kaup.
NEW AND EXCITING
This is the newest rotary tattoo pen from Cheyenne.  Sol Nova is light but still a powerful rotary machine. It's very quiet with minimum vibration.  The pen is fast and fills the skin quickly and safely - in spite of being quiet and soft which helps the skin to recover faster.
High-end design - Made in Germany
The main tool any tattoo artist uses, should reflect his quality standards. Our many years of development work have led us to create the SOL Nova so as to provide you, the artist, with a machine that offers more freedom to express your skills and your artistic fantasy.
Live out your philosophy: NO LIMITS – BE AN ARTIST!
Can be combined with all cheyenne safety cartridges - For endless possibilities
To realise all tattoo styles at the highest level, you combine your SOL Nova with our original SAFETY and CRAFT CARTRIDGES. The proven, uncomplicated modular system – Made in Germany by CHEYENNE makes it possible for you to quickly switch between the 56 needle configurations – really easy: screw in and off you go!
Even less vibration for the utmost precision
The SOL Nova is much quieter and vibrates less than conventional tattoo devices. But it still has high puncturing power and frequency.
360° Creative freedom of movement
Taking into consideration all of the different requirements, we have developed a tattoo machine that offers tattoo artists creative, almost limitless freedom. The balanced, pen-like shape gives you the feeling of drawing when employing any style. You can thus use the SOL Nova to realise everything from fine lines to gentle shadings and even fillings.
There are no limits to your abilities!
Surfaces that withstand a lot
A perfect tool for tattoo artists has to do more than just look good. This is why we have made the SOL Nova out of high-quality, robust and easy-care materials. The SOL Nova consists externally of anodised aluminium. This makes the whole surface hard and particularly scratch-proof. At the same time, the surface is hygienic and also looks extremely good.
Color: Black
Ergonomic design and perfect balance
Powerful yet quiet, gentle on the skin for faster healing.
New engine: Powerful, smooth, soft, quiet and very gentle to the skin
Powerful brushless DC motor for better ink saturation
Frequency: 25 - 150Hz - ideal for a wide range of styles
Frequency: 25Hz is great for dot workers and color realists
Nominal Voltage: 5 - 12.6V
3.5mm stroke - suitable for lining and shading
Comfortable 33mm grip
Length: 102mm
Weight: 150g
When you order from us you save yourself the postage from abroad.