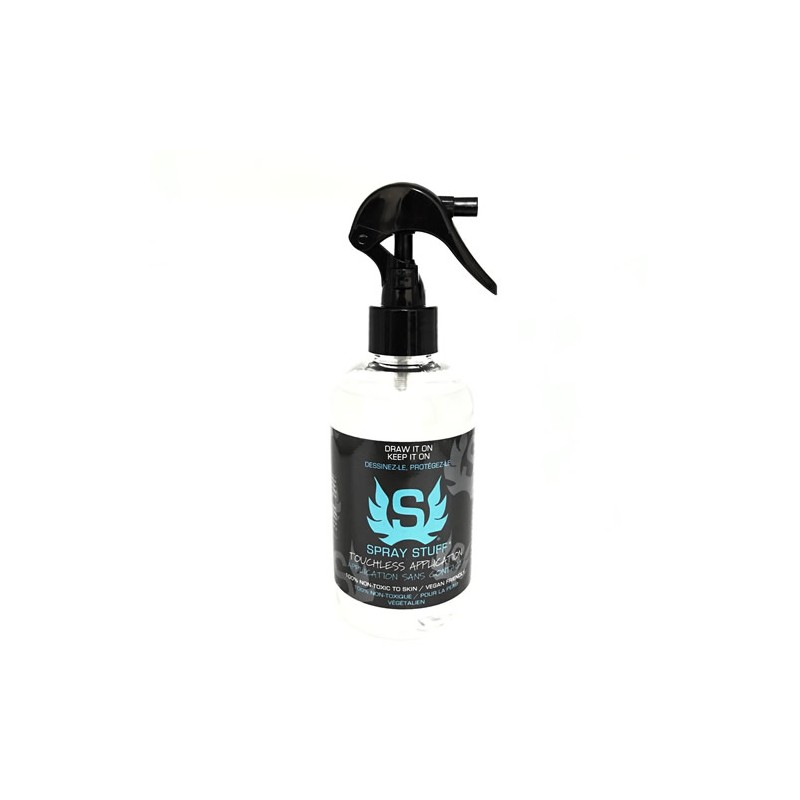  
Spray Stuff 8oz
Stencil Stuff Spray tryggir að pennablek og stensil blek haldist lengur meðan að unnið er. Þetta er milt fyrir húðina og hentar flestum húðgerðum, er 100% laust við skaðleg efni og er vegan að upplagi. 
Pantanir verða póstlagðar innan 48 tíma frá því að þær berast, yfirleitt næsta virka dag.

Hægt er að skila vörum sem eru ónotaðar og í upprunalegu ástandi og fá inneign eða skipta, allt að 14 dögum eftir kaup.
Stencil Stuff Spray gives you longer lasting, crispers stencils markings that will stay clear for the duration of the tattoo session. It is non-toxic, safe for most skin types and suitable for vegans. It works by rubbing the spray gel into the skin before you apply the stencil then keeping the stencil in place and stopping to from rubbing off during the tattooing process. This is a cleaner, safer way to apply stencil as there is no cross-contamination. To use; make sure the area you are going to apply it to is clean and dry, then shake the bottle well then apply. Wait 5-10 minutes to allow the formula to dry, then you can start work. It is recommended that you apply the Stencil Stuff before you set up your work area, this will give time for the skin to dry. This spray is ideal for artists who like to work with freehand stencils as it allows the freedom for you to design straight onto the skin safe in the knowledge that your design will stay put throughout the whole tattoo. The spray is available from Barber DTS in 8oz spray bottle as well as a number of other Stencil Stay products.
Þér gæti einnig líkað við